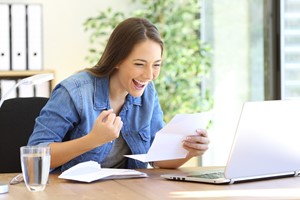 You may have the notion as you're searching for a house that the first bid will win when it comes to jumping at the chance to buy a home. That's not always true. however, can waiting too long to put in an offer on a home be detrimental to your home search? We'll go over some of the best advice as to what makes a good offer, and when the best time to put that offer in is.  
There's actually no real set timeline for when you should put an offer in on a home. The real determination of this is the type of housing market that we're in in at any particular time. A fast moving housing market can equate to the need for you to make an offer quickly. Most realtors will agree that you shouldn't wait too long to put in an offer on a home that you like. 
If you have a good realtor, and you have done your homework as well, you'll be able to make an educated offer. You'll have done your due diligence if you have a pre-approval letter ready and understand a bit about the market itself, along with the pricing typical of the neighborhood where you're interested in buying. Your realtor can help you to understand as to whether the offer you want to put in is a good one or not. 
Know What You Want
The most important part of putting in an offer on a home is knowing what you want in a  home. Before you get to the point where you actually want to put in offers, it's a good idea to have searched a bit online, and even attended a few open houses in the area where you're searching. This will give you a better idea of what's out there in your price range.     
The First Offer Is The Best One
This is an old adage in the real estate business. If you're a seller, you have to assume that what a buyer is offering is their top number. If other offers come in at a higher price, then buyers who were really interested in the home may be fresh out of luck. That's why putting in a strong offer is so important. You don't want to lose out on a home that you really want because you haven't taken the time to understand what a good price point for a home in your neighborhood of choice is.
New Listings Have More Interest
Homes that have just been listed generate the most enthusiasm. Sometimes, the biggest part of putting an offer in on a home is trial and error. Many people will put in 2 to 3 offers before they finally secure the home of their dreams. Newer listings typically expect more for the price point the house is listed at. If a home has been listed for a short time, buyers can expect to pay close to the asking price for the home. Homes that have been on the market for a longer period of time have more negotiating power, giving the buyer a bit more wiggle room in their offer.  
The bottom line is that if you see a home that you love, you'll want to put an offer in as soon as possible. When the market is hot, no home will last long. Be prepared to make an offer when you find that property you want so that the process will be a lot easier for you.