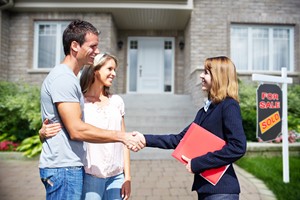 If you're considering putting your house on the market, the job of helping you find a qualified buyer is an important one. The real estate agent you choose to market your home, schedule appointments, and provide you with day-to-day guidance will play a crucial role in the outcome of your sale.
In addition to picking an agent who has a successful track record of selling houses similar to yours, their overall attitude, communication style, and energy level can provide you with valuable insights into whether they're up to the challenge.

Here are three of the top reasons that a positive attitude is an indispensable quality in a real estate agent.
When prospective buyers and agents tour your home, they will be influenced by several factors. While their main focus will be on the look and feel of your home, their opinions will also be swayed by your agent's presentation style. Your real estate professional should have a knack for helping prospects focus on the desirable aspects of a home, while downplaying its negative features. Although issues and potential problems with a property usually need to be acknowledged, a resourceful real estate agent will make sure the problem is kept in its proper perspective, rather than blown out of proportion. They'll also do their best to suggest cost-effective solutions. To the extent that it's possible and practical, a good agent will help prospective buyers imagine how much they'd enjoy moving into the house, customizing it to their personal preferences, and making the space their own. People will quickly pick up on the enthusiasm and attitude of your real estate agent, and will be consciously and unconsciously influenced by their verbal and nonverbal messages. Most, if not all, buyers will be quick to detect everything from authenticity and sincerity to indifference and lethargy in an agent. These traits should also be obvious to you when you're interviewing agents during the selection process.

An optimistic, results-oriented real estate agent will tend to be more resourceful, proactive, and solution-oriented that one who focuses more on problems than solutions.
Both enthusiasm and negativity are contagious, so your agent's attitude will have a direct impact on your own outlook. Since your responsibility as the seller is to keep your home and property looking its best at all times, discouragement and a loss of optimism can easily spill over into noticeable details like home cleanliness and staging.

Choosing a great real estate agent can potentially translate into a higher sale price and a shorter period of time that your home will be on the market. Since thousands of dollars are at stake, it makes good financial sense to pick an agent who possesses the necessary people skills, the relevant knowledge, and the professional expertise to bring you the best possible return on the sale of your property.