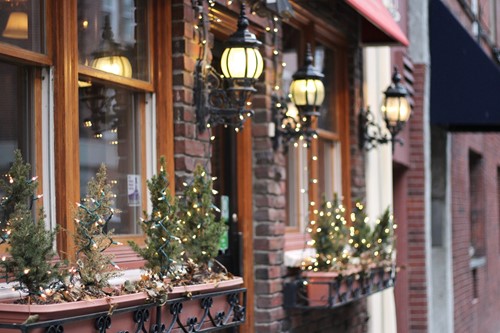 As the wonderful holiday season fast approaches it is the time to consider how you are going to deal with staging. It's magical to see sparkling light shows, but not so much when you are trying to buy a home for your family. Ultimately, your goal with staging for any time of the year is to create a clean and open atmosphere. This invites imagination from among your prospective buyers as they envision themselves living in the home they are touring. Discover ways that you accommodate the holiday season while maintaining the professional look that your clients and potential buyers want.
Strike the Staging Moment Right
When someone walks through a home during the holiday season for an open house, leave them with plenty of visual space. Open up the rooms by removing any holiday decor. However, you do want to capture some of the magic of the season. An effective solution for maintaining your budget is to stick with a single color scheme.
For example:
Use all white lights for strings of holiday lighting
Hang solid red bows on display outside of windows
Drape fresh greenery as garnish across mantles
Create wreaths from brown twigs or dried grapevines
These ideas are easy, cost-effective, and brilliant for achieving your overall goals.
Yay or Nay to Holiday Ornaments
Typically, you want to keep the ornaments to a minimum. After all, these glittery glass balls can be distracting and cause unexpected crashes to take place when buyers are touring a home. If you do choose to have a holiday tree with ornaments, go with a single color scheme. You also want the ornaments to complement the color of your decor. Also, look for ornaments made from a material that will not break easily and avoid any fragile glass ornaments.
Keep the Focus on the House
Now here are a few items to steer clear of. Slip any homemade or personalized ornaments and decorations out of sight before visitors arrive. Also stay away from inflatables, collections of dolls, or holiday displays, such as miniature town scenes. These clutter and distract the buyers as they look at the bigger picture of how they will fit in this space. As you consider other items, such as holiday treats or greeting cards, less is more in any case.
Make the Most of the Holidays
The holidays are a magical time of year when families are ready to make the most of a fabulous home buying opportunity. Contact me for additional tips in the real estate market and let me help you sell your home this holiday season.