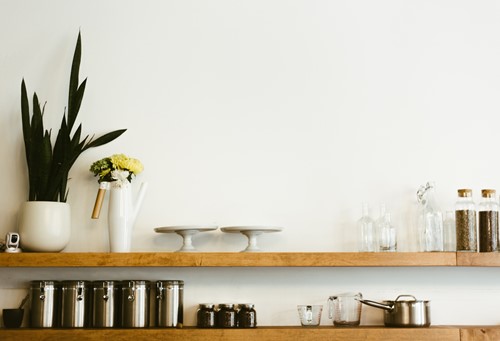 During home decoration, it is natural to have one or more blank walls that leave you asking yourself: "What am I going to do with that?" You may get frustrated, but don't worry, you are not alone — barren walls are likely driving other homeowners crazy, too. What's the solution? A fresh coat of ideas.
Below are some blank wall ideas that don't just cover the space but do so with a touch of beauty.
Add a Map
A blank wall in any room can be annoying, especially in a bedroom. Rather than waking up every morning to a bare wall, you can put a map on it. You can use the map of the United States, the world or any other destination you find inviting. If you place the map over cork, you can put pins in all the locations you've been to or the ones you want to see next. Have kids? Try putting a map on the blank wall in their room. It not only makes it beautiful but also provides a fun way to learn.
Hang Your Accessories
Don't allow your beautiful accessories to hide behind the closet doors. Show off your cloches, skimmers, berets, and trilbies on decorative hooks on your blank wall of choice. If you aren't a hat-lover, you can hang a statement necklace for a dazzling effect.
Make Attractive Storage Options
Do you have limited storage in your home? Those blank walls could be the answer. Use your imagination to make an impressive design with floating shelves to store extra dishware in the kitchen or a favorite collection in the living area. If you get stuck on your design, there are plenty of DIY articles across the Internet, or you can get a consult from a home staging expert.
Create a Graffiti Wall
An easy DIY wall project is using graffiti. If you are the creative type, take the opportunity to show off your artistic skills. You could also hire someone to sketch a design on your blank wall. Another way to achieve the graffiti look is to buy graffiti mural wallpaper or wall decals. The decals are easily removable for when you're ready to sell your home.
Give It a Dramatic Color
If you're looking for a simpler way to make use of the wall, try creating an accent wall. Consider painting it with a geometric design, horizontal stripes or a bold, contrasting color. Painting is one of the fastest and most cost-effective ways to make a blank wall fun.
Decorate with Plants
A blank wall in a bathroom may be less of a worry, but you can use that opportunity to cultivate a mini-garden. A mini-garden in the bathroom? Absolutely. Hanging plants on the wall of your bathroom will help purify the air while steam from the shower keeps them hydrated.
Any season is an excellent opportunity to do an easy DIY wall project. Check out popular home design blogs or speak to an interior designer for more ideas on how to beautify your home.